A playback block always starts with the block header, which contains the name of the block as well as information on scheduled start times, if applicable.
Blocks can be moved my clicking and moving the Block Header. If you press CTRL after starting dragging, the Block will be copied instead of moved.
Right clicking on the block header opens the block header functions.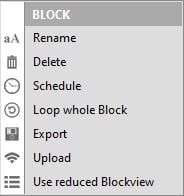 With Rename you can change the name of the block.
Delete deletes the entire block from the playlist including the clips it contains.
Schedule opens a submenu for scheduling the block playback: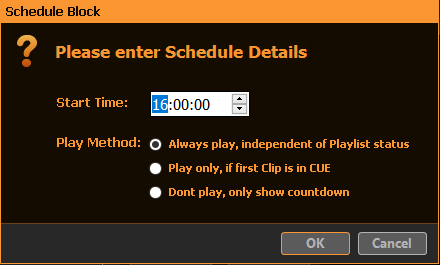 Please enter the planned start time for the respective block and choose between the three available options:
Should playback start no matter what status PLAYDECK is in at this start time? If so, any action will be aborted at that moment and playback of the block will begin.
Alternatively, AutoPlay can only start if the first clip of the block is in the CUE.
As a third option, PLAYDECK only displays a countdown on the user interface, but no autostart is performed.
Loop whole Block activates the endless playback of all clips in the playback block.
Export renders all clips including all transitions and overlays to a video. The settings for this are selected in the Settings – All Settings – Playlist Output – Export section.
Upload uploads all clips including all transitions and overlays to an upload server. The settings for this are selected in the section Settings – All Settings – FTP Upload