Within a playlist, you can not only use videos, graphics or audio tracks for playback, but you can also receive and output a live video signal. So you can automatically switch to another video source directly from the playlist without the need for an additional video mixer.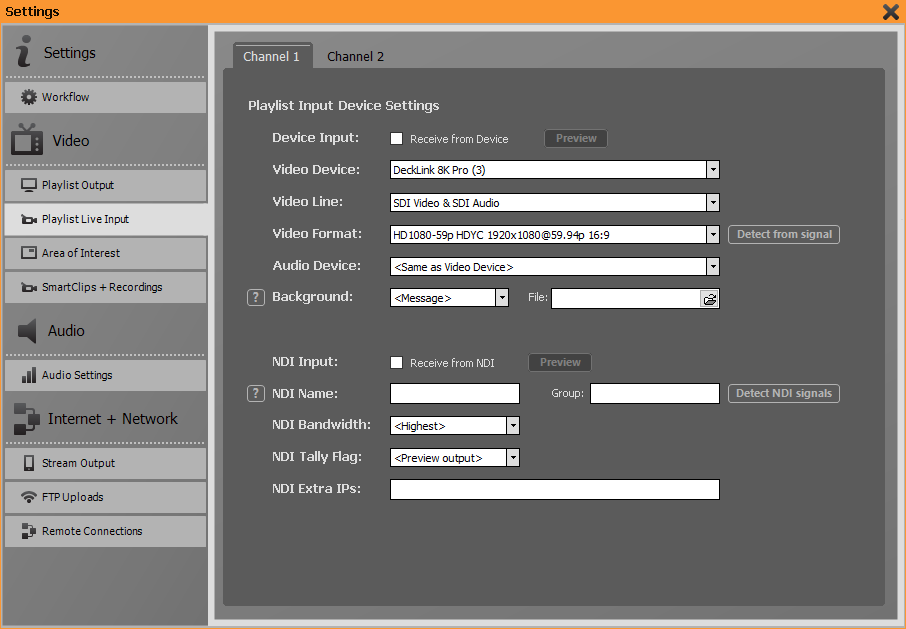 In the two upper drop-down boxes Video Device and Video Line, please select the live input you want to display.
In the Video Format field, please select which video format is available at the Live Input. Alternatively, you can also use the Detect from Signal button. If the information about the input resolution is transmitted from the card to the system, the correct value is automatically entered.
With Audio Device you can specify a different device for receiving the audio signal.
In the Background section you can set what PLAYDECK should show you if there is no correct video signal or the signal fails. You can choose between a text insertion ("No Video Signal", <Message>), a file that you can assign using the file explorer on the right (<File>), or a still image of the last received video signal (<Last Frame>).
After you have confirmed the Active checkbox, you can check the incoming live signal in a preview window using the Preview button.
You can assign two different live signals for channel 1 and channel 2. Using the same connector for both playlists is currently not supported.

You can also use NDI streams in your playlist as live input. By pressing Detect NDI signals PLAYDECK will scan the connected network for NDI streams. If there are multiple NDI streams, please enter the name and group of the desired stream. Activate NDI Input by checking the corresponding box.
You should only change the NDI Bandwidth to Lowest if you really want to get only a preview quality display.
PLAYDECK does not currently support NDI|HX.