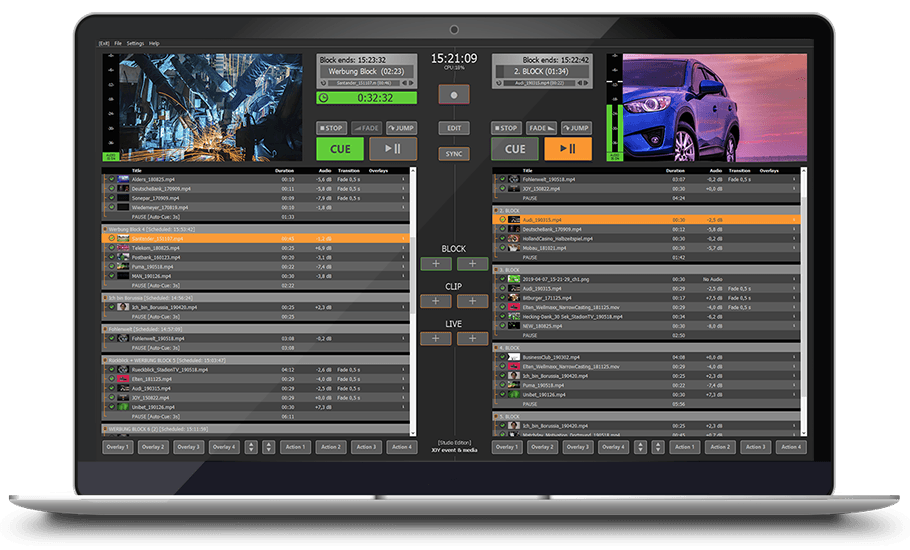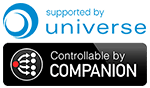 Professional Video Playout for
Live Events and Cloud Based Productions
State-of-the-art, Windows-based media playout software with integrated edit-while-ingest functionality
made for professional live events, cloud-based remote productions and touring or rental businesses
and much, much more…
Why you should definitely try out PLAYDECK
Because with PLAYDECK you will significantly increase your productivity, whether you produce live events, stadium TV, theatre performances, museums, TV broadcasts or virtual and hybrid streaming events. You can run PLAYDECK both on-site and cloud-based.
PLAYDECK provides you (from the Plus version upwards) with two completely independent output channels in which you can organise your videos, graphics, audio files, live inputs or YouTube clips simply by dragging and dropping. If you like, you can select different resolutions and frame rates for both channels. For example, you can play full-screen videos from channel 1, while animated lower-thirds with alpha channel are sent from channel 2.
PLAYDECK supports almost any codec and converts all content to the selected output format in real time. The output is completely flexible via dedicated output cards (e.g. from Blackmagic, AJA, Bluefish, …), via the extended desktop or via NDI.
In the Studio Edition, an additional recording channel is also available. The recorded signal can be edited while the recording is still running (edit-while-ingest, e.g. highlight editing), played back with a time delay or streamed. For maximum flexibility you can choose from a wide range of different recording formats.
But PLAYDECK (depending on your licence) is much, much more than a simple playout system:
You can trim and crop your content, you can automatically adjust the volume, you can schedule the start of your content, you can control the playlist externally, you can start playback via your video switcher, you can transmit closed captions, you can completely customise PLAYDECK with advanced scripting functions, you can…
We invite you to try the free trial version and see for yourself the incredible features of PLAYDECK!
We are sure you will love it!
Video Tutorials
Get to know the extensive functions of PLAYDECK very easily:
Browse through our feature videos!
Whats new in PLAYDECK v3.7
► Ready for Windows 11
► Global Audio Mixer Routing
► SCTE PassThru for SDI and UDP
► Closed Captions for Streams/Recordings
► Schedule your Blocks by Weekdays
► Break Blocks with Clip Return for Ads
► Use Live Input as Playlist Background
► Template System for Titles/Scoreboards
► Improved NDI 5.5 Input Detection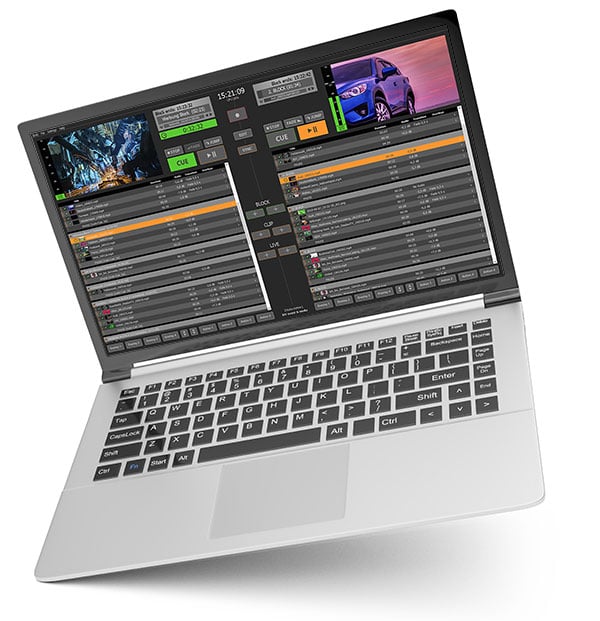 20+ YEARS
LIVE EVENT EXPERIENCE
Made by highly skilled professionals
in Germany.
Choose the best plan for you
Save time and money with the most flexible pricing in the live event industry