Each playback block in PLAYDECK ends with an end of block command.
Right clicking on the block end opens the Block End Functions: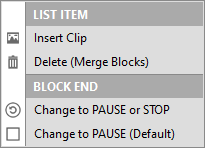 Insert Clip inserts a playlist entry just before the end of the block.
Delete (Merge Blocks) deletes the end of block command and merges the current and the following playback block into one.
Change to … opens a submenu with which you can change the block end command. The displayed command depends on the current end-of-block command.
Change to … (Default) replaces the current end of block command with the default one stored in Settings – All Settings – Workflow – Playlists