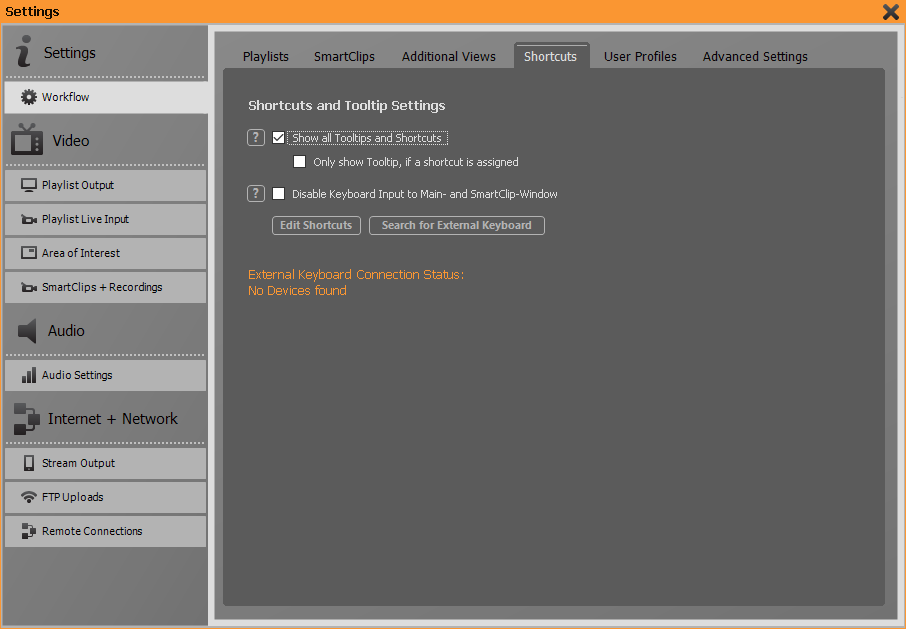 By default, PLAYDECK displays a text when the mouse is held over an active button. By deactivating the upper checkbox, you can turn off these hint texts. By activating the lower checkbox, the hint texts are only displayed for those buttons to which you have assigned a keyboard shortcut. The assigned shortcut is also displayed as a reminder.

If you select this check box, all keyboard entries in the main window and in the SmartClips Editor are locked, except for your personal shortcuts. This helps you avoid unwanted interactions with Windows commands.

The "Edit Shortcuts" button takes you to the input window for creating keyboard shortcuts to operate Playdeck. For more details please refer to chapter 2.2.
The "Search for External Keyboards" button allows you to connect Playdeck to an external USB keyboard and assign shortcuts to it. The following models are currently supported: X-Keys XK-68 Jog & Shuttle, X-Keys Stick
Directly below this menu item you will see which external keyboard your PLAYDECK system is currently connected to.