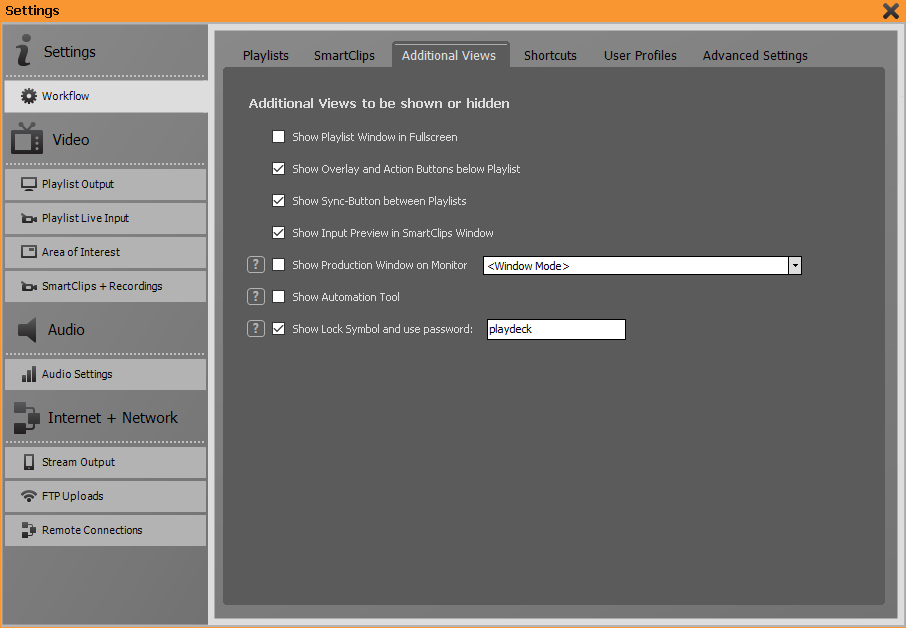 By selecting this checkbox, PLAYDECK will be displayed in fullscreen mode and hides the Windows taskbar.

If you don't need the Overlay and Action buttons for your work, uncheck this box to gain more space for displaying the playlist.
Activate this checkbox if you want to have the possibility to control both playlists in parallel when the SYNC function is activated.

Select this check box if you want to preview the incoming video signal in the SmartClips window. If you do not display the preview, system resources are saved.

Select this check box to output the Production Window. In the selection field behind it you can choose the output of your graphics card to be used for this purpose.

Selecting this check box displays an automation tool that can record and play back all mouse clicks and keyboard commands.

When the function is activated, a lock symbol is displayed on the user interface. This allows you to protect your PLAYDECK system from unauthorized use if you ever need to leave your workplace. The remote control continues to function as usual. You can freely select the password for unlocking the control protection.