PLAYDECK offers a variety of remote control options. You can make the corresponding settings in this tab: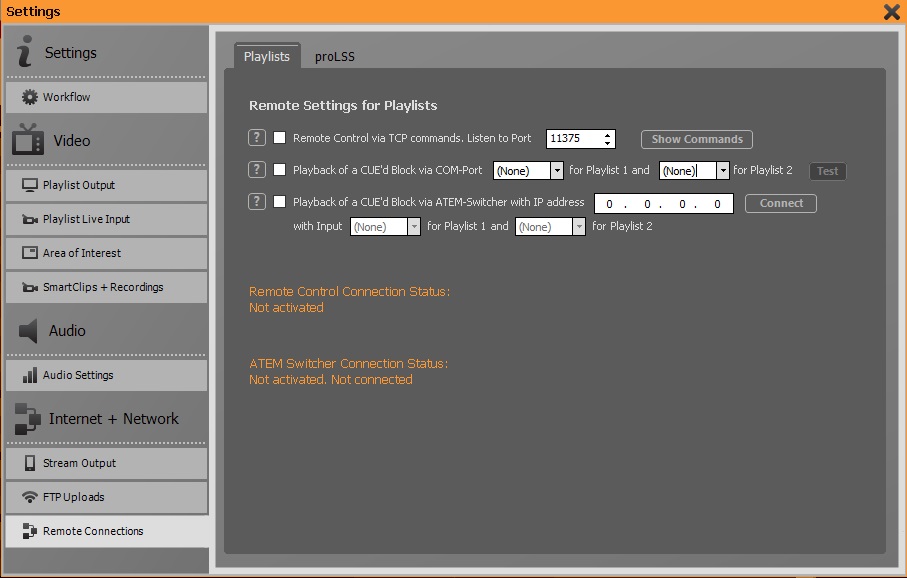 You can remote control both playlists from PLAYDECK via TCP/IP commands from a remote control computer. You can use any tool you like for this, as no special format is required (no special encoding, no line ending command necessary). You can send several commands simultaneously.
A click on the Show Commands button opens a text file with all documented commands.

You can connect both playlists to almost any video mixer and have playback start automatically as soon as the corresponding channel of the mixer goes on air. For this purpose, the tally signal of the mixer is registered at the chosen COM port. As soon as a clip is in CUE state, PLAYDECK performs a simple loopback test on the corresponding COM port: If a galvanic connection between pin 3 (Transmit Data) and pin 2 (Receive Data) is registered for at least 50 ms, playback starts immediately.
If you need a corresponding tally-to-USB interface, please contact our support team.

Playback can be automated particularly conveniently if you have connected PLAYDECK to a Blackmagic ATEM mixer. As soon as a clip is in CUE state, PLAYDECK listens to the connected ATEM mixer. If the corresponding channel is switched to air, playback starts immediately.
In order for PLAYDECK to communicate with your Blackmagic ATEM device, you need to install the ATEM Control software on your PLAYDECK computer. It is NOT necessary to start the software. PLAYDECK only requires access to the appropriate drivers and libraries.
Enter the IP address of the mixer (it must be in the same address space as your PLAYDECK system) and click Connect. Then you can select from the two drop-down fields which input channel of your ATEM device PLAYDECK should listen to.
Finally, please activate the checkbox on the left.